Well, here is a recap of a project I'm just not sure about. This creation has replaced a nonexistent headboard on our guest bed in the basement. Problem is, I'm just not in love with it...at all. I still think I can do something I'll like, but I have to agonize over it. Just my way, you know, the OCD expressing itself again. I'm going to share what I did and would appreciate any suggestions at the end of this post.
This braniac idea started out when the light box that covered up my horrible flourescent lights in the old kitchen came down. I thought I could repurpose this piece and I did, but I think it could be better.
This is what it looked like while still attached to the ceiling:
More honey oak to match the cabinets! This is pre-redo while it stood in my messy garage that is besgusting (as my son Tommy would say). I really need to ask my hubs to clean up this mess.
I decided to add to the mess. What the heck, right? Maybe I can make things so bad he really will clean up the garage. Just kidding...well not really.
I started by separating the front of the light box from the sides with a crow bar and rubber mallet. I know, a little crude, but it worked. I was left with these little nails all around the edge on the back. I tried to pull them through and just didn't have the muscle power needed. Soooo, I took the easy way out and just hammered them flat. Not beautiful but effective.:)
I then decided to use a spray primer and the heirloom white that everyone has been talking about on other blogs. This worked great. Unfortunately, I was too cheap to go and purchase some glaze to give it that aged appearance. I decided to use some stain I already had on hand. I believe it was a can of Minwax Mahogany. I forgot how R.E.D. it is. This made my headboard look a bit pink. I decided to keep going and see if the finish would wear on me.
Can you see that red/pink hue? I was going for something more on the brown side...hmmm. Well, pushing ahead.
I then took some heavier herringbone patterned fabric with linen tones to line the "window" openings with. The idea was to keep everything neutral so I could change my bedding and still have a coordinating headboard. The pink/red kind of stalled that idea stream. Are you catching on to the indecision part yet? I still love this fabric and have a lot leftover that I'm sure will get used in other projects.
The fabric was just stapled on, and I then added some D-rings on the back of the frame to hang it on the wall. I would definitely do something a bit more sturdy if I had my kids sleeping in this bed. However, my guests are a bit more well behaved and I don't worry about them pulling it off the wall. Here is the finished product:
The old sheets (mid-90's, please don't judge me) on this bed sure bring out the pretty pink in this headboard...aaaack! I'm also thinking that I hung this a little too high, at least that is what the hubs is telling me. Don't tell him, but he may be right...gasp!
You have probably figured out that I'm not in love with the redo, however, it is better than nothing. I don't know, I'll keep my eyes out for different materials, think about repainting maybe. The good thing about this project is that it is easy to switch things up. I just pull out the staples and replace the fabric. I'll probably do this when I get some better bedding for the bed.
This guest space needs a lot to make it more hospitable. A decent night stand. Pillows, better art, a more gender neutral bedding scheme. All right, I better stop now. I'm giving my husband palpitations as he reads this.
Again, if you are reading this, please leave comments with any suggestions. Thanks. I'm linking up with: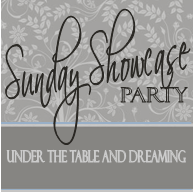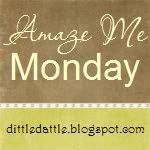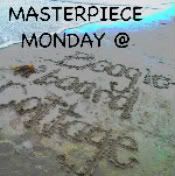 http://cottageinstincts.blogspot.com/